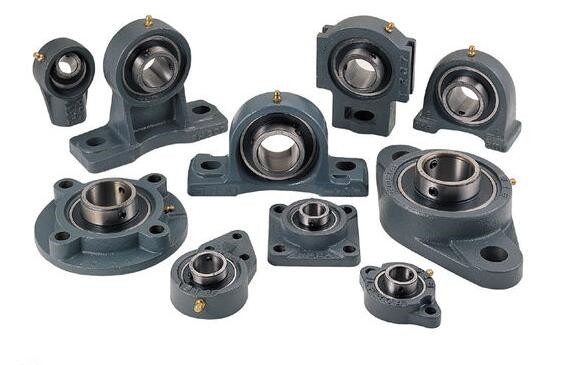 Housing units are available in many different designs as plummer block, flanged and take-up housing units. The ready-to-fit units comprise cast iron or sheet steel housings in which the radial insert ball bearings are integrated. In order to ensure correct function and operational reliability in all operating conditions, the bearing and housing are matched to each other.
Bearing Housing type:
1. Spherical Roller Bearing Solid-Block Housed Units
Spherical Roller Bearing Solid-Block Housed Units feature rugged cast-steel housings and double-row spherical roller bearings. Designed to offer protection from contaminants, these housed units accommodate shaft sizes from 1-7/16?to 7?(40 mm to 180 mm) and most metric sizes.
2. Type E Housed Unit Bearings
Type E tapered roller bearing housed units are available in a wide variety of sizes and configurations to meet the requirements of demanding applications. Popular part numbers are in stock for immediate availability. Inch sizes range from 1-3/16?to 5? Metric sizes also are available in shaft diameters ranging from 35 mm to 125 mm.
3. SNT Plummer Block Housed Units
SNT Plummer Blocks provide excellent bearing protection with cast-iron housings and a variety of sealing options to keep grease in and contamination out. Metric shaft sizes are available ranging from 20 mm to 400 mm.
4. SAF Housed Units
SAF pillow blocks combine rugged cast-iron or cast-steel housings with high capacity spherical roller bearings to meet the toughest demands of heavy industry. The convenient split-housing design simplifies assembly and service.
5. Ball Bearing Housed Units (Includes Industrial and Standard Series)
Ball housed units, available in a variety of sizes and types, feature wide-inner-ring ball bearings that provide additional shaft support and locking options. The wide-inner-ring ball bearing is designed for straight shafts and can be positioned without shoulders, locknuts or adapters.
6. Ball Bearing Housed Units (UC-Series)
Ball Bearing Housed Units (UC-Series) are the popular set screw locking style industrial series housed units and bearing inserts. These units combine a contact nitrile seal and an external slinger to provide superior protection from contamination. Ball Bearing Housed range in size from 12mm to 90mm (1/2 in. to 3-1/2 in.) and are available with a variety of housing styles.
7. Spherical Roller Bearing Metric and Inch Accessories
Mounting accessories including sleeves, nuts and washers.
Welcome to inquire. info@bohembearing.com

Products list as belows,