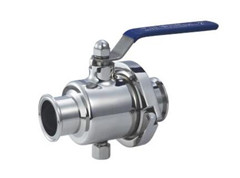 We offer an extensive range of Ball Valves for a variety of applications. Our Ball Valves have been used all over the world in the Oil, Gas and Petrochemical industries and have become renown for their durability, safety and true reliability under high pressure.
With a range of pressure ratings, bore sizes and temperature ranges available to you, we can supply standard specification ball valves or work with you to engineer bespoke ball valves that can fit into any existing Oil, Gas or Petrochemical project.
Key Features:
ADVANCED LOW TORQUE DESIGN
Our ball valves have very low operating torques, and a range of seat materials to give the ultimate in process environ mental compatibility.
STAINLESS STEEL HANDLE
One piece stamped 316 Stainless Steel handle gives positive feel, quarter turn rust-free operation.
STOP PIN
A 316 Stainless Steel "dead stop" pin is held into the body by a machined anti-vibration spline.
SEATS
Our totally enclosed seats offer wide process compatibility whilst maintaining a positive sealing across the entire operating range. This high level of seat integrity allows both vacuum, and high pressure services from one ball valve.
FIRESAFE SEATS
This option, in the event of a fire, ensures the ball/seat metal to metal contact is maintained. Note that the body and stem seals are changed to graphite.
BALL
This precision machined component is super finished assuring low operating torques.
FULL FLOW
Positive 90 degree travel combined with clear thru' bores, review table for full or reduced bore.
PROCESS THREADS
CNC super finished screw cut threads ease assembly with reduced risk of galling.
SPINDLE
A one piece stem incorporates an anti-blowout shoulder which maintains seal integrity at all pressures. Twin anti-vibration lock nuts are standard.
BODY SEALS
Totally contained PTFE 'O' ring body seals give high body integrity, and additionally protect the body threads from process media.
Pressure vs Temperature Curve:
BALL VALVE PRESSURE VS TEMPERATURE CURVE
QUALITY ASSURANCE
BS5750, ISO 9000, EN 29002 quality systems accredited by both Lloyds Register and British Standards.
CERTIFICATION AND TRACEABILITY
All body components exhibit unique identification coding and material test certificates to BS EN 10204 3.1.B.
TESTING
All ball valves are subjected to three pressure tests, a hydrostatic test at the full rated pressure and low pressure pneumatic test at 50 PSI (3.5 bar), as well as a shell test to 1.5 times working pressure.
VACUUM SERVICE
Our ball valves are suitable for vacuum service and have been tested at 0.01mbar with no detectable leakage.
ANTI-STATIC OPTION
Can be specified with our ball valves.
CONTINUOUS DEVELOPMENT
of existing and new ball valve products maintain the highest levels of performance and integrity for our products. Our Valves maintain in-house fire test, cycling and combined pressure/temperature test facilities.
SEATS
Three piece body 10mm ball valves with unique twin seat 120 C (250 F) maximum: Teflon/PVDF standard.




200 C (390 F) maximum: Teflon/KEL-F add /KL.

Three piece 14 and 20mm ball valves with solid seat 200 C (390 F) maximum: PEEK.
Ball Valve Sizing Chart: